Newsletter April 2021
| | |
| --- | --- |
| | Newsletter April, 2021 |
Aboriginal Muscular Skeletal Patient Pain video
Getting your Life Back!
We are delighted to have recently released a new 3-minute video that's focused on raising awareness in Aboriginal communities of the support and treatment available for the debilitating impacts of musculoskeletal conditions.
Our Aboriginal communities are one and a half times more likely to suffer from Osteoarthritis and incredibly almost twice as likely to have Rheumatoid Arthritis. This, coupled with poor access to health care services, means that they experience a burden of disease that is 2.3 times more than non-indigenous Australians.
It's therefore vital that when they do have access to medicines that the healthcare services provide the relevant information in a culturally appropriate way.
This video was created with that in mind. The video was developed in conjunction with the Dubbo and Coonamble Aboriginal Health Services (AMS) and was produced for use by the Aboriginal Health Services Clinics in Western NSW in their clinic waiting rooms, consultations, home care visits, wellbeing sessions and community groups.
Meet our RA patient Jill
watch her 2 min. interview on managing her health
News from Dr. Charmaine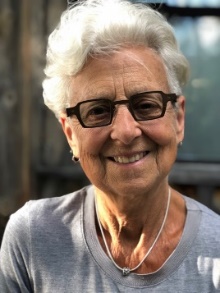 Recent research has discovered the clotting mechanism for the very rare event of cerebral venous sinus thrombosis (CVST)(clot) accompanied by low platelets following the AZ vaccine. This is extremely rare and most likely in women < 55 yo. Previous clots such as deep vein thromboses/ pulmonary emboli are NOT a contra-indication to getting the AZ vaccine as the CVST is an entirely different mechanism. Please see your physician should you have adverse effects lasting longer than 4 days after your injection.
Many of us have had to endure changes in our treatment regime. We are not alone! There still isn't a good predictive test for selection of the best medication route for you/me. As stated in the APLAR review,

"Despite the great advances over the last 20 years in rheumatology, data such as this, from Singapore, elegantly shows the journey is not over and that we may only be at the end of the beginning. The analysis showed that only 41% of patients with inflammatory arthritis remained on their original advanced therapy after 2 years. Inefficacy was the main reason for drug discontinuation. As has been shown previously, educational level, source of funding and level of income did not affect the retention rate".


Authors: Koh LW, in 22nd APLAR Virtual Congress 2020 review. www.researchreview.com.au.
Drug survival rates of biological DMARDS and novel small molecules: Data from the Singapore National Biologics Register



Julie was our Dragon Talk guest in March. "move better. live pain free" was her tag line on slides made especially for us" Thank you Julie.
Julie reviewed the common foot conditions (as shown in photo below) that can cause pain and disfigurement as we all age, even without an inflammatory condition! Many are preventable, treatable, or can be palliated.
Prevention is the best cure! We should all have a chiropodist/podiatrist on our team and see them annually. Our feet are important to our quality of life! We can avoid feet like these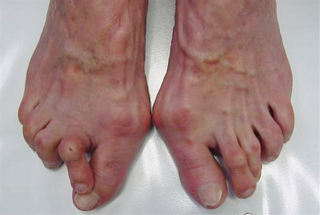 www.happyhealthyfeet.ca
Functional Nutrition
by Charlotte Hill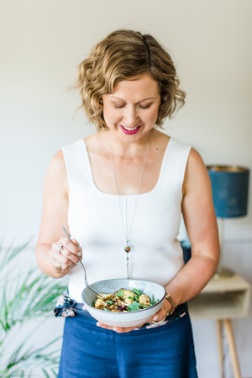 Many of us live our lives not realising that our body is telling us a little story everyday with the symptoms it gives us. Anything from digestive symptoms like bloating, heartburn, dry feet, headaches, energy changes and many more. Often, we do not listen to these or brush these off as common and therefore normal. They are all signs of underlying imbalances and when pieced together can help understand what is at the root cause. Our body is one amazing machine! On the topic of feet, I will give you a few examples. Dry feet can indicate fatty acid or vitamin deficiency which can be due to lack of dietary intake or poor digestion. Itchy feet can be a sign of an overloaded liver. Athlete's foot can indicate underlying gut imbalances. This month, I would really encourage you to start listening to what your body is telling you. Awareness is the first step before making changes. Try writing down what you are experiencing in your body. Does this change if you eat certain foods? If you drink water or alcohol? If you get more / less sleep? Next month, I will be back with simple tips to help you nourish and support your body. www.chillandnourish.com
Dragontalk

free, informative, friendly support & sharing

register with Charmaine at This email address is being protected from spambots. You need JavaScript enabled to view it.

April 13/14
Medications cont'd with our pharmacist
April 20/21
Art therapy: a hands-on experience
April 27/28
Breath! Are we in fact breathing properly?
May 04/05
Why do we sleep?
May 11/12
A RA patient's story
May 18/19
Coffee time
May 25/26
The benefits of massage for those with Auto Immune Diseases

All sessions Wednesday 10:00 am Australian Eastern Standard Time

For North America: Tuesday 8:00 pm Eastern USA Time

Dragon Talk (DT) Facilitator is Dr. Charmaine Jones.


If you would like more information, or to be added to our weekly invitation list, please email Charmaine This email address is being protected from spambots. You need JavaScript enabled to view it.
| | |
| --- | --- |
| Disclaimer: The Site and the content and services made available on the website are provided on an "as is" and "as available" basis. Dragon Claw does not make and disclaims all express and implied warranties and representations, including, but not limited to, any implied warranty of fitness for a particular purpose, with regard to the Site, the Site content, or any advice or services provided through the Site to the extent permitted by law. Dragon Claw does not warrant that access to the Site or its content or services will be uninterrupted or error-free or that defects in the Site will be corrected. The advice, recommendations, information, and conclusions posted or emailed by other members of the Site may not in any way be vetted, approved or endorsed by Dragon Claw, and you use such information at your own risk | |