Newsletter November 2021
| | |
| --- | --- |
| | Newsletter November 2021 |
Medmate - Home Medication Delivery
for Australian Patients

Have you tried Medmate yet?
Medmate brings the pharmacy to you with 60- minute delivery of your pharmacy essentials and prescription medicines. With over 1,000 pharmacies all over Australia, you can shop anywhere and anytime from the comfort of your home.
Learn more about Medmate by clicking Getting Pharmacy Medicine Delivered To Your Home or check out our exclusive introductory offer for Dragonclaw members - free express delivery on your first Medmate order.
To receive this awesome offer Click Here
Seasonal change and flares

Grandma's joints are hurting her…. the weather must be changing! If you have any type of autoimmune inflammation, you've probably lived through a flare.
A flare is a period of increased disease activity or worsening symptoms – a time when the medications you normally rely on to control your disease don't seem to work. Is it an old wives' tale that flares are more frequent in some seasons?
Charmaine provides some answers and practical tips. To read more Click here
Vitamin D - its roles in the body and how to make sure you are getting enough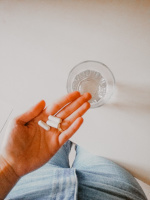 As seasons are changing and the northern hemisphere is moving into winter and the southern hemisphere is coming out of spring, it is an important time to check in on your vitamin D levels - otherwise known as the sunshine vitamin.
Approximately 50% of the population worldwide are believed to have a vitamin D deficiency - this includes a large proportion of the Australian population that are vitamin D deficient despite the levels of sunshine.
In this article, Charlotte, a functional nutritionist, is diving into the roles of vitamin D in the body and the various sources of vitamin D - including her top tips. To read more Click Here
Dragon Talks

What happened in October and what were the key messages for us all?
We have had another great month of Dragon Talks. Read further to hear about these inspiring and uplifting gatherings. Know also that you are most welcome to join us. Tuesday evenings at 7 pm (6 pm beginning November 9) for Canadians; 10 am Wednesday morning for Australians. To read more Click Here
Contact National (Australia) Help Line

Our friends at Musculoskeletal Australia provide a contact free national Help Line!
Do you have questions about dealing with pain, your musculoskeletal condition/s, treatment options, COVID-19, or accessing services? Then be sure to call their nurses on their free Help Line. They're available weekdays between 9am-5pm on 1800 263 265.
Alternatively feel free to drop a line to our patient volunteers with your phone number and we are happy to give you a call by appointment This email address is being protected from spambots. You need JavaScript enabled to view it..

We meet each week for conversation, support, and a programme with a presentation or a member's story. Wednesday mornings at 10 am for those living in Australia, and Tuesday evenings at 7 pm for those living in Canada's Eastern Time Zone. Note: Time will change to 6 pm EST on November 9 as Canada returns to standard time.


To see the Event Calendar Click Here
Medical Disclaimer
While all information in our newsletter has been researched, reviewed and presented with all due care, the content is provided for general education and information only.Information here is not intended to replace medical advice from a health professional and Dragon Claw does not accept any liability for any error or omission, injury, expense, loss or damage incurred by you or another party as a result of you using or relying on any information contained in our newsletter, on our website or any linked website. All users are urged to seek advice from a qualified health care professional for diagnosis and answers to their medical questions.